Contact a Product Expert:
Quickbooks Online with Paya Integrated Payments
Maximize QuickBooks accounting software to include payment processing through Paya's secure payment plugin.
Eliminate repeat data entry
Takes CC, ACH
Links available in AR Invoice/SO Invoice/Sales Orders/Sales Quotes
PDFs of documents are available on Portal
Customer sync for adds/deletes/changes


Click2Pay works as a complete customer portal -or- as a method for fast pay using anonymous links.

It seamlessly connects your ERP offering dynamic, real-time invoicing and sales support. It also includes bi-directional communication between the payment portal and ERP so you can make real-time updates as needed.
• Integrates with payment documents (Quotes, Sales Order, SO & AR Invoice)
• Saves tokenized payment information for future use
• Attaches and displays the original ERP document in PDF format
• Changes and payments reflect in your ERP in real-time
• CC and ACH payment information records back to the ERP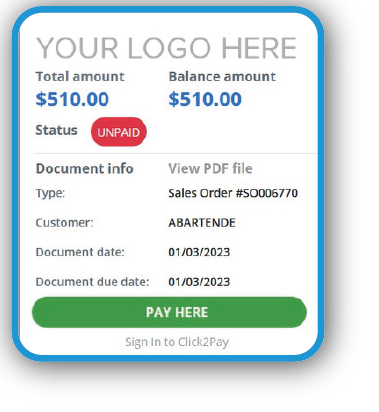 Click2Pay provides customers with anonymous, one-time-use payment links. No logins or passwords are required. This means faster and more secure processes without CC/ACH information provided to the merchant.

Click2Pay provides a merchant-enabled customer portal that includes:
• Saved Credit Card and ACH accounts
• Multi-selection of invoices for payment
• Partial payments
• Deposits or full payment of Sales Quotes and Sales Orders

Innovation never ends! New features on the horizon include:
• Surcharge / Convenience Fees
• Dynamic discounting
• Notifications
• Dunning / Outstanding Invoice Reminders
• Statements
• Pre-Authorization
• 3rd Party Integrations

Why ACH Reigns Supreme for B2B Commerce:
Enable customers to pay with their choice of payment
Paya incorporates proprietary technology that minimizes the risk of accepting ACH & Check (bad checks/fraud)
Non-Sufficient Fund items are automatically resubmitted to attempt collection
Fast funding time and improve cash flow
Online reporting of activity
Ensures NACHA and other regulatory requirements for processing
ACH Specific (if integrated into your software or gateway)
Receive payment faster than accepting paper checks
Cost less than accepting credit cards
Accept ACH online, over the phone, or in person
Setup recurring payments
Process within your existing interface for efficiency
Reporting posts back into your software

Integrated Credit Card Processing and PCI Compliance
Paya's integration adheres to PCI DSS requirements

With Paya's Quickbooks Online credit card processing solution, you can safely and securely accept, store, process, and transmit cardholder data during credit card transactions, to prevent fraud and theft.

Accelerate Cash Flow
Enable faster

payment cycles

Rapid batch processing, which provides next-day

funding
(02/24/2023) There are no release notes for Quickbooks Online at this time.